Water Tank Garden Beds
Water Tank Garden Beds
For use in residential, commercial and industrial landscaping and water storage
Standard tank capacity 750 litre or 1750 litres
Can be custom made to any dimension
Fabricated using Paneltim ® with a removable 6mm polyethelyne liner
Leak proof
Above or below ground
Can also function as a retaining wall
Range of cladding options
Viking Plastics' Water Tank Garden Beds consist of a raised garden bed sitting on top of a rainwater collection and storage tank.
Water Tank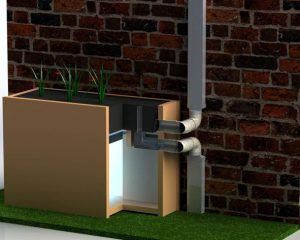 The water tank receives its water via a downpipe diversion to the inlet of the water tank.  A tank overflow pipe is connected back to the downpipe.  Two outlet nozzles are located at the base of the tank. One nozzle could typically be used for a sight glass. The other could have a pump connected to access water outflow.
Fabrication
The water tank compartment is fabricated using innovative Paneltim® plastic construction panels.  Paneltim® is a dual skin sandwich panel that can be applied to both above or below ground installation. At 50mm thick, the panels are robust with superior strength and rigidity in length and width.  As a result, Viking's water tank garden beds can also be incorporated as a fence or a retaining wall. Paneltim® is UV stabilised ensuring the panels stand up to Australia's harshest conditions.
The water tank can be clad in a range of options to suit any decor.
Garden Bed
The garden bed section consists of a removable 6mm polyethelyne plant box liner. The resulting planter box is suitable for any plant, shrub or vegetable that has a shallow root system.
By adding a small solar powered pump, the water tank garden bed will function as a stand-alone self-watering garden bed.  Any run off water will drain from the planter box into the water tank for re-use.
Australia Wide Delivery
Fabricated in Melbourne, Viking Plastics' products are available for delivery Australia wide.
For further information, you can request a quote or call Viking Plastics on 03 9587 2297.