Custom Made Planter Boxes
Custom Made Planter Boxes
Custom made to client specifications
Manufactured to any dimension
Fabricated using Paneltim® plastic construction panels
Range of cladding options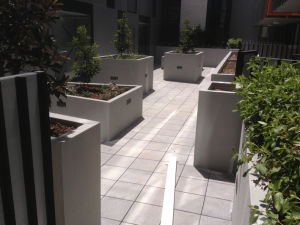 Viking Plastics fabricate and supply custom made planter boxes and liners for large residential and commercial developments.
Viking's plastic planter boxes are a lightweight alternative to concrete or steel constructions. Every Viking planter is custom made and can be built to any required dimensions. For long boxes, internal braces are added to ensure the walls remain true when loaded with soil. The boxes can be installed with spacers between each planter to allow for thermal expansion and contraction.
Planter boxes are fabricated using Paneltim® – 50mm thick, dual layered, injection molded, plastic sandwich construction panels. The dual layer ensures Viking planters are virtually puncture proof.
Cladding Options
Our customers have clad Viking Plastics' planters in a range of designer finishes including timber, render, decorative contact adhesive and paint. Customers have also installed lighting features in the external cladding to create stunning visual effects. The possibilities are only limited by your imagination!
Australia Wide Delivery
Viking's products are fabricated in Melbourne for Australia wide delivery.  Viking can arrange transport if required.
For further information, request a quote, or call Viking Plastics on 03 9587 2297.

To view the full range of Viking Plastics products, visit our main site.